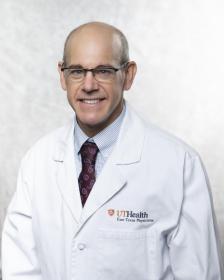 Specialty:
Ear, Nose & Throat (ENT)
Head and Neck Surgery
Physician Group:
UT Health East Texas Physicians
Practices At:
11937 US Hwy 271
Building G
Hours:
Monday - Friday

8 a.m. - 5 p.m.
Robert Strominger, MD is a board-certified otolaryngologist at UT Health East Texas Ear, Nose and Throat (ENT) Center, specializing in the medical and surgical management of diseases related to the head and neck in both adults and children. This includes common problems like ear infections, hearing loss, chronic sinusitis and chronic tonsillitis. Dr. Strominger also specializes in laryngology, voice and swallowing disorders.



He will perform videostroboscopic evaluations of the vocal cords, flexible endoscopic evaluations of swallowing, EMG guided Botox (add registered trademark symbol) injection for spasmodic dysphonia, phonosurgery for vocal cord paralysis and benign lesions such as vocal cord nodules and microlaryngeal surgery for laryngeal and vocal cord neoplasia.
Dr. Strominger has an interest in treating head and neck cancer, including oral and throat cancer, laryngeal cancer and thyroid cancer. He performs parathyroidectomy for parathyroid adenomas and hyperparathyroidism. Dr. Strominger's goal is to provide the highest level of care possible in a respectful and efficient manner. He treats children and adults.
"What makes ENT a relatively unique field is our ability to collaborate with other specialties. For instance, with neurosurgical for pituitary surgery; sleep medicine for upper airway evaluations and sleep surgery for obstructive sleep apnea; pulmonary medicine for long-term tracheostomy care and decannulation when there is concern for the upper airway; sports medicine for exercise-induced laryngeal obstruction," said Dr. Strominger.
Board Certifications:
American Board of Otolaryngology - Head and Neck Surgery, Board Cerification
Education:
Fellowship: National Institute of Deafness and other Communication Disorders, Section of Voice and Speech Disorders, Bethesda, Md.
Residency: Otolaryngology - Head and Neck Surgery, Washington University School of Medicine, St. Louis
Internship: Washington University School of Medicine, St. Louis
Doctor of Medicine: Albany Medical College, Albany, N.Y.
Bachelor of Arts: Biology, Washington University, St. Louis