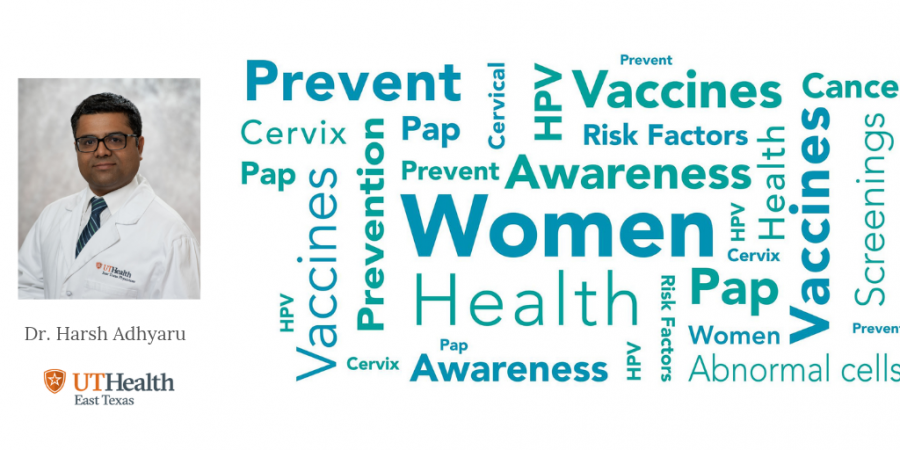 Cancer of the uterine cervix is the third most common gynecologic cancer diagnosis in the United States. The good news is that the rate of cervical cancer has declined significantly due to widespread use of Pap smear screenings, HPV vaccines and the availability of treatment of precancer.
The cervix is the neck of the uterus, or the lowest part of the uterus, sitting on top of the vagina. Due to cancer, cells of the cervix become abnormal and grow out of control and invade surrounding organs. The average age of diagnosis of cervical cancer in the United States was around 48 years based on a study done between 2000-2004, and lifetime risk of developing cervical cancer in women was 0.76 percent.
Keep reading to learn more about causes and risk factors for cervical cancer, its symptoms, diagnosis, available treatments and most importantly, strategies to prevent it.
Risk Factors:
Human Papilloma Virus (HPV) infection causes virtually all cases of cervical cancer (found in 99.7 % cases of cervical cancer). It is a sexually transmitted infection which often shows no symptoms. The following are risk factors for cervical cancer, which are similar to the risk factors for HPV infection:
Early onset of sexual activity (< 18 years)
Multiple sexual partners
History of sexually transmitted infections (e.g. chlamydia trachomatis, genital herpes)
Immunosuppression (lowered immunity, such as HIV infection)
Among the 40 genital types of HPV, 15 types are responsible for cervical cancer.
Most HPV infections are transient, meaning they last for only a short time, and the virus alone is not enough to cause cervical precancer or cancer. Most women clear HPV infections by self-immunity over a few years.  When HPV infection persists, the time from initial HPV infection to development of precancer and invasive cancer takes an average of 15 years.
Symptoms:
Early cervical cancer is mostly asymptomatic, meaning it does not show any symptoms, and are mostly found by a pap smear screening and further testing. Common symptoms could include: heavy /irregular periods and/or vaginal bleeding after sex.
Diagnosis:
Final diagnosis is made mainly by performing a biopsy.
Treatment:
Treated by surgery, radiation and/or chemotherapy, depending on the stage of cancer.
Prevention:
As it is often said, prevention is better than cure. The following prevention strategies are available:
Pap smear screening and treatment of precancer

:
A pap smear can detect abnormal cells in the cervix way before it becomes cancer. A pap smear is a screening test and, if it is abnormal, will be followed by diagnostic testing such as colposcopy and biopsy of the cervix. A biopsy can diagnose cervical precancer or cancer.
Treatments are available for precancer, such as minor procedures like LEEP (Loop Electrosurgical Excision Procedure) or cone biopsy (conization) to remove/treat precancer and prevent development of an invasive cancer.
The following are current pap smear recommendations based on age:
Younger than 21 Years: No pap smear needed.
21 -30 years: Pap smear every 3 years if normal.
31-64 years: Pap smear with HPV testing (co-testing) every 5 years or Pap smear only every 3 years if normal.
65 years or older: Pap smear is not needed if three normal pap smears in a row or two normal Pap/HPV co-testing in a row over the last 10 years or if patient has had a hysterectomy with cervix removed and no abnormal pap smear.
HPV vaccines:
HPV vaccines are available to protect against HPV infection and subsequent precancer and cancer of cervix and HPV-related anal cancer, cancer of the vulva-vagina and cancer of the penis.
Total 3 doses: 0, 6- and 12-months interval.
Age of administration:
Girls: Ideal age: 11-12 years, but can start as early as 9 years and can be given up to age 26.
Boys: Ideal age: 11-12 years, but can start at age 9 and can be given up to age 21.
The HPV vaccine works best when it is given before a person gets infected with HPV. Thus, it is important to get HPV vaccine before becoming sexually active, although it is still beneficial if given to already sexually active individuals.
The HPV vaccine does not prevent 100 percent of HPV-related cancers. That's why it is important to get Pap smears even if one has had the HPV vaccine.
---
Harsh Adhyaru, MD, is an Ob/Gyn physician who practices at UT Health East Texas Physicians Jacksonville. "I believe in providing comprehensive, high-quality, compassionate and personalized care through practice of current standard of care and evidence-based medicine. I encourage shared decision making with patients by discussing available treatment options, and help patients enjoy a better quality of life."
He is fluent in English, Gujarati and Hindi.