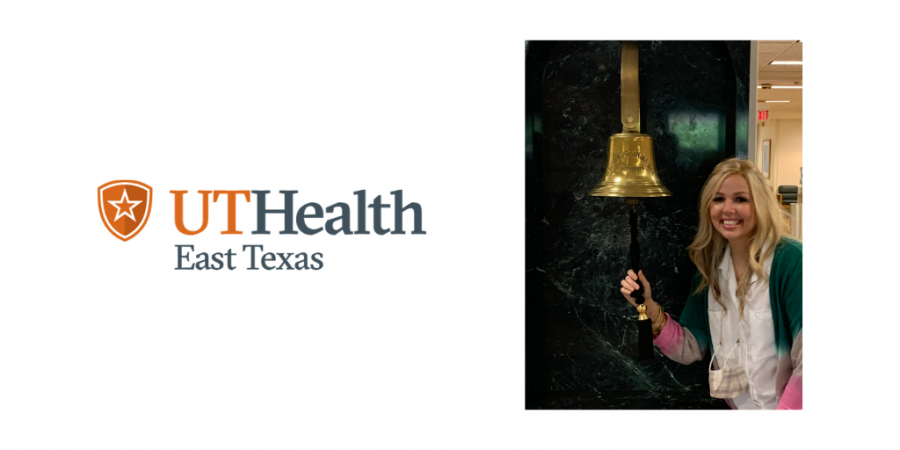 In August 2020, Meagan Doran got the news that no one wants to hear, "You have cancer." Meagan was only 36 years old and a mother of two young children. She had a significant family history of cancer, so she knew there was a chance she could experience it one day, but hearing those words is something you can never prepare for.
In most cases, women should start receiving annual mammograms at age 40, but because of her family history, Meagan was recommended to start earlier. Meagan went to the UT Health East Texas HOPE Breast Center for her first mammogram in August, which came back normal. A few weeks later, she woke up in the middle of the night and felt like she needed to do a self
breast exam.
"I felt the Holy Spirit tell me to feel my breast," Meagan said. "I did and I felt something. I woke my husband up and told him and knew something was going on. Luckily, I had my annual exam with my OBGYN a few days later."
Meagan was recommended to get an ultrasound. She went back to the UT Health East Texas HOPE Breast Center where she met Dr. Brandon Ashton and Dr. Michael Klouda, board-certified diagnostic radiologists.
"I expected it to be an uneventful visit," Meagan said. "Dr. Ashton immediately looked and called me into a private consultation room and told me I had multiple areas of malignant tumor in my breast."
Meagan lost her grandmother and two uncles, as well as several friends to cancer, which made her diagnosis even harder to hear.
"My world just crumbled," Meagan said. "I literally crumbled on the floor. In my experience, everyone that had cancer had died. I thought I was being given a death sentence. But Dr. Klouda and Dr. Ashton are absolutely phenomenal. Dr. Klouda was so supportive and encouraging. He let me know that the oncology team would be wonderful to work with and honestly just eased my mind and let me know what to expect. He was so comforting to me."
The next steps were for her to find an oncologist and begin a treatment plan. She chose Dr. Arielle Lee, board-certified oncologist at the UT Health East Texas HOPE Cancer Center.
"Dr. Lee came in and immediately laid down a plan and helped give me confidence that I could get through this cancer treatment and that I was receiving the best possible way to treat the cancer," Meagan said. "She knew how scared I was and told me 'Meagan, you have the opportunity to beat this. This is not a death sentence.' I had so much faith in her treatment plan. Every time I would ask a question, she would come back to me with research. Knowing she was so educated was comforting because I knew I was getting the top care."
The UT Health East Texas HOPE Cancer Center uses a tumor review board to develop treatment plans for every patient. This conference includes a group of 15-20 doctors who diagnose and treat cancer, including radiologists, oncologists, pathologists, radiation therapists, surgeons and geneticists.
"I love the tumor review board because it wasn't just Dr. Lee's treatment plan," Meagan said. "I had the wealth and knowledge of the whole team. All those great minds coming together to treat this one cancer. This made me feel like I had the best chance. I love that even my OBGYN and plastic surgeon were all in there together. When they set my plan, I felt like it was so evidence-based and complete."
Her treatment plan included chemotherapy and a double mastectomy, followed by 10 years of a hormone-blocking medication. Her body had a complete response to the chemotherapy, so she didn't have to be treated with radiation. Though she tried to stay positive, her journey was challenging.
"There were some awful days," Meagan said. "Chemo is not easy. I have a newfound compassion for anyone that has walked through it. It's a smell and taste you can't get out of your mouth. The goal of chemo is to kill the cancer without killing you and you have to ride that line to give as much as you can tolerate to make sure it's killing the cancer cells. There are times I would get down or get nervous knowing I was going back in for another treatment, but I knew the goal and I saw the light at the end of the tunnel."
Meagan rang the cancer victory bell on April 21, 2021, marking the end of her chemo treatment.
"It felt so good," Meagan said. "As we were walking out of the treatment center after ringing the bell, my husband and I just cried. So many tears in that place were tears of fear, but honestly walking out felt like hope. I felt like hope was achieved."
Since her treatment, Meagan has been recovering well and is ready and hopeful to get back to her normal life.
"I have tremendous faith and I was holding on to the fact that the Holy Spirit would not have led me to this if His intention was not to use it to save my life and for good. He saved me. He led me to something that allowed me to find this. I have this peace now and I feel like my purpose in all of this is to tell women to go get your mammogram and maybe to be an advocate for women's breast health. I just feel hopeful. I'm happy to know I'm going to get to celebrate my babies' birthdays this summer and for many summers to come."
Because of her significant family history of cancer, Meagan did genetic testing for the BRCA gene, but it came back negative. However, there's still a chance she could have a mutation that hasn't been discovered yet. Her hope is that if there is something, it's discovered with enough time for her children to be proactive about it.
"The number one thing about genetics is self-awareness," Meagan said. "No one knows your body better than you. I had a mammogram that said no. I had a doctor feel for the tumor and at first, couldn't feel anything, but I knew that when I turned a certain way I felt something. I had an extremely aggressive form of cancer. It was grade three and was multiplying quickly. Had I waited until my next mammogram, it would have been everywhere and we wouldn't have been able to stop it."
Though the journey was scary, Meagan was grateful for the care and support she received from the UT Health East Texas HOPE Cancer Center.
"I'm so thankful I got in with HOPE," Meagan said. "I guess when you walk through something so tough, people become more than just practitioners; they become your family. Walking such a scary road, I was so happy to have Dr. Lee and the HOPE Cancer Center team become part of my family."
Meagan held onto hope through her entire experience.
"I think the HOPE Cancer Center is the perfect name," Meagan said. "All you can have when you're truly facing a scary or deadly experience like this is hope. To walk in the opposite direction of fear is to walk towards hope. I had a great experience, but I don't recommend cancer. I would not wish this on my worst enemy. But, if you're going to go through something as scary as dying, the people at the HOPE Cancer Center are who you should do it with."
One in eight women will develop breast cancer in her lifetime. Early detection is key. The UT Health HOPE Breast Center now offers 3D mammography, providing better imaging and early detection. To schedule your mammogram, call 903-531-8000 or visit UTHealthEastTexas.com/Mammogram for scheduling and more information.
This story was featured in the June/July 2021 issue of TylerToday.