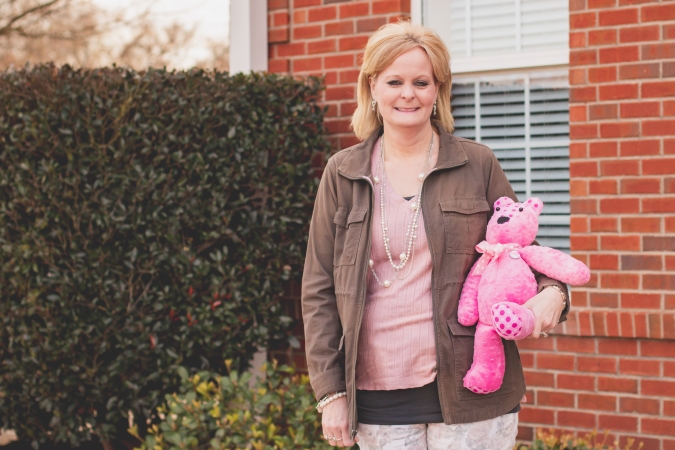 In March 2019, Meri Mullicane got the news that her sister, Maeschelle, was diagnosed with breast cancer. Meri sent her a pink bear with a note that said, "I know I don't understand your journey, but everybody needs something to cry on." Unfortunately, Meri would soon understand her sister's journey all too well.
Meri went in for her annual mammogram in May, which showed no abnormality. However, because Meri had dense breast tissue, it was recommended that she come back for a screening ultrasound. Dr. Michael Klouda, board-certified diagnostic radiologist at the UT Health Tyler Breast Care Center, conducted her ultrasound and found a suspicious spot.
"Dr. Klouda would always kid with me through the whole thing, and then it stopped," Meri said. She knew something wasn't right. "He said to come see him afterwards and that he found a spot that looks suspicious."
The next step was a biopsy and two days later she got the news. Meri was diagnosed with breast cancer.
"Her result came back grade one invasive ductal carcinoma," Dr. Klouda said.
While this is the most common type of breast cancer, it wasn't easy to find.
"Meri's cancer was so small it could not be felt, and only with careful ultrasound scanning could it be seen," said Dr. Brandon Ashton, a board-certified diagnostic radiologist at the UT Health Tyler Breast Care Center.
The doctors at UT Health East Texas were thorough in determining Meri's treatment.
"Once we do the diagnosis and find a cancer, then we present the case at a conference to anywhere from 15-20 doctors who diagnose and treat cancer, including radiologists, pathologists, surgeons, radiation therapists, oncologists and geneticists," Dr. Klouda said. "They will agree on an appropriate treatment before any surgery is done. That way, the patient only goes to the operating room one time. When it's a small tumor and we catch it early, through screening, they can save the breast and increase the chances of survival."
Shortly after getting the news, a familiar pink bear arrived in Meri's mail with a card that said, "Dear Meri, I think you need me more right now than Maeschelle does, so I'm going to come spend some time with you."
Meri had a lumpectomy on Aug. 30, successfully removing the entire tumor.
Though Meri's tumor was small, her journey was not easy.
"I remember walking into the cancer center for the first time," Meri said. "It was frightening. There was something about it, the not knowing. I was scared every step of the way. I used to tell the radiology techs that this is the roller coaster I did not buy a ticket for."
After surgery, Meri received radiation every day for six weeks to treat the rest of the breast tissue where other cancer cells may have lurked.
"The hardest part is the clicking and buzzing sound of the machine as it goes around you," Meri said. "My first round took 78 seconds. The second took 23 seconds. I counted every day. That's how I got through it."
Many called Meri brave, but she didn't feel like it was bravery.
"You have people tell you all the time that you're so brave, but you're not," Meri said. "You covet life, and when you covet life, you push through. That whole brave thing, it's really not bravery. Nobody gave me an option. You just want to live. Sometimes I feel like other women have gone through so much more. I almost feel guilty because there are women who haven't survived. There are women who didn't catch it early, but we are all warriors. Our emotions are all the same. We covet life and we want to live. You're a warrior by default."
Though the journey was scary, Meri was not alone. She had a strong community around her that continually showed her love and support.
"I've had so much support from my families," Meri said. "My husband is a Tyler firefighter and they're always incredibly supportive. Our Brook Hill parent association sold breast cancer tattoos and donated the money to the Susan G. Komen Foundation in my name. I showed up to school one day in October and they came in and said they had a pink shirt for me and I said, 'OK, well I'll wear that to school tomorrow.' But when I got to school the next day, all the kids had the shirt. One of the parents found out I had breast cancer, so they donated pink shirts to all the students in our school. It's very humbling."
Meri's situation really was a best case scenario.
"She represents the whole goal of breast imaging — find breast cancer at its smallest size and earliest stage, because it gives the patient the most options for treatment and the best chance for survival," Dr. Ashton said.
Meri's last round of treatment was an emotional day.
"I'll never forget walking out of the HOPE Cancer Center when I finished radiation," Meri said. "I was very happy to be done. I totally just lost it. I thought, 'I made it. I survived it.'"
In February, Meri went in for her six-month scans and everything looked clear. Now, Meri is preparing to send the little pink bear on another journey, back home to her sister.
"We were able to catch my breast cancer early, but had I not gotten the ultrasound, this could be a whole different story," Meri said. "There are so many women that don't move forward with that ultrasound. But you need to move forward. I was fine. I wouldn't have known."
One in eight women will develop breast cancer in her lifetime. Early detection is key to survival. To schedule your mammogram, call 903-531-8890 and press 3, or visit UTHealthEastTexas.com/services/breast-care for more information.
The safety of our patients and caregivers is our top priority. All of our facilities are following CDC guidelines, including screening everyone before entry, mandatory masking and disinfecting procedures.
This story was featured in the Tribute to Courage section of the April/May TYLER TODAY issue.